Mobius: Adding Clouds & Thunderstorms
The Mobius app allows you to create various weather patterns using clouds & thunderstorm options. Please see the instructions below for more information on how to apply this to your schedule.
1. Open the Mobius app and select your tank
2. Select "Lighting" and choose the edit option.
3. Once you are on your scheduling screen, select a data point and choose the thunderstorm icon as shown below.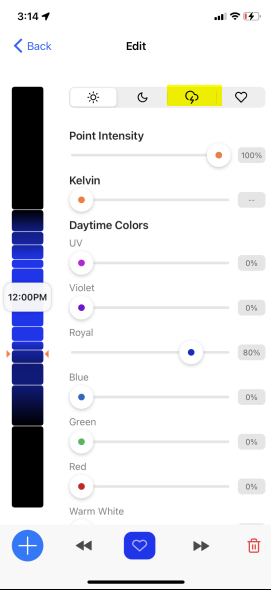 4. When in this screen, you can then increase your cloud coverage or thunderstorm frequency *note, the higher the percentage, the more likely the effect will occur between the time points for that specific day*.
5. Once added, you will then see the effect shown both in your scheduling screen as well as your lighting tab.